Bumps and dents on your car can spoil the overall visual impression. Vehicles with such damage usually appear older and in poorer condition. Of course, this has a particularly negative effect if you are planning to sell your car.
There are many professional providers that will remove dents and dents. There are different methods for removing smaller bumps and dents. Some of them are very easy to do, using things that can be found in every household.
A dent in the body does not always mean damage to the paintwork. Modern vehicle paints are quite stretchy, so with a bit of luck, a dent can be treated without repainting.
But the most important thing when bulging is heat. Cold paint is brittle and breaks very easily. That is why a dent must always be supplied with sufficient heat so that the paint can also adapt to the movement of the sheet metal.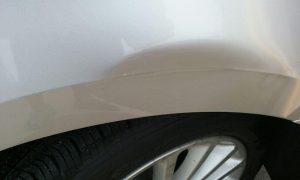 Bumps are either pulled out from the outside or pushed out from the inside. Pushing from the back gives you more opportunities to apply the necessary force. However, this requires extensive dismantling work.
When pulling out a dent, there is always the challenge of applying enough force to the spot without damaging the paintwork. That is why a vacuum is usually used when pulling. Adhesives may also be possible, but once again you have to be very careful when removing the residues.
So…
Before You Begin, Consider These First
Unfortunately, not all dents are the same. Depending on the nature of the dent, you can either repair the damage yourself or should leave it to a professional. An evenly shaped dent with soft, rounded outer edges can be removed with DIY techniques.
In contrast, if you have a crease, damaged paintwork, or a sharp-edged outer edge, you should visit an auto repair shop with paint and bodywork service.
You should see a professional in these circumstances: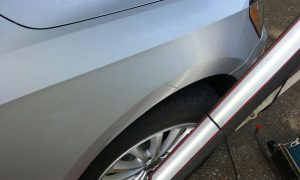 The paint around or on the dent is damaged

The dent has an edge

The car has several dents

You have no experience and would rather leave the repair to a professional
Now that we have that cleared, it's time to dive into the DIY ways to remove dents from the automotive vehicle body.
How to Remove Dents from Your Car's Body
1. With a plunger
Simply press a suction cup on the area where the dent is located. Pull the plunger sharply to pop the dent out. If you rub the edge of the suction cup with a little Vaseline beforehand, you can be sure that you can easily remove it again later.
2. With a hairdryer
Metal reacts to temperature changes. You can take advantage of this fact when removing dents. Heat the affected area evenly with the hairdryer.
Caution: Excessive temperatures can damage the paintwork.
When the metal is heated, you need to get it to cool down as quickly as possible. Ice spray from a can or dry ice is best for this. In most cases, the drastic change in temperature ensures that the body returns to its original shape
3. With a hammer
Depending on where the dent is, you may be able to remove it with a hammer. To do this, it is important that you can access the back of the affected body component. From the outside, hold a piece of wood or metal against the indented areas (make sure to wrap it with cloth beforehand to avoid scratching the paintwork). Now you can carefully try to push the dent out with a hammer from the inside. After a few light taps, the dent should be gone. Work carefully to avoid causing major damage.
4. Use boiling water
Small dents are often easily repaired by pouring boiling water over the problem area. Once the body is warm, it will become more malleable and it will be easier to pop the dent out from the other side.
5. Use a vacuum cleaner and a bucket
For small dents, a vacuum with powerful suction can be effective. Combining the vacuum with a bucket can increase your suction power even more.
Make a small hole in the bottom of your bucket and tape the vacuum nozzle over the hole to make the hole airtight. You can then use your vacuum jig to pop out a hollow dent.
If you feel like you've got the skills and don't mind messing things up ‌you become the professional yourself. Visit a hardware store or hop on to amazon and you'll find that they stock a variety of tools and kits to repair dents in your car, including dent removers, all under $50.00, and dent remover glue kits.
But pay attention to the caution below:
Caution: Do Not Try These "Quick Fixes"
Not all miracle cures that are promised on the Internet should also be used. To be on the safe side, we advise against this list of methods:
Hot glue gun: In the worst case, this can severely damage the paint and also leave unsightly marks.

Ice Spray: This attacks the protective clear coat layer and can cause the paint to chip.

Dry ice: Like ice spray, this can damage paintwork and should be avoided entirely.
Best Solution: Hire a Car Dent Removal Expert in DeBary, Florida
Is it a stubborn dent or are you concerned about repairing the damage yourself? Especially if you have little experience with car repairs, it is better to leave this matter to a professional.
Contact us at any time, we will be happy to advise you! In our workshop, we take care of any damage to your car and make sure that it is repaired as soon as possible. We also have the right tools and the appropriate know-how to treat your car with care.
All you have to do is send us some pictures of the dent, ding, or scratch on your car's body and we'll send you a low-priced quote as soon as possible. Send a request now.
Remember
Dents and dings are small indentations in the car's outer sheet metal. As a layperson, you cannot get accident damage or even a warped frame under control yourself. Basically, the softer and rounder the outer edges of a dent are, the easier it is to fix.
However, if the outer edge is sharp-edged and kinked, it becomes difficult with home remedies. Better to call an expert dent remover in that instance.
Call Dent Max's paintless auto dent repair service
At Dent Max, we understand your automobile is your investment and you want to keep it looking great for as long as possible. You don't want rough surfaces and you don't want mismatched paint. That's why we developed our signature technique over the years to help car owners restore their cars to their out-of-factory look.
Your next step is simple: Send us some pics of the affected area and we'll tell you exactly what needs to be done at a bespoke price for you — which is usually cheaper than other dent removal services near you. Don't believe us? We have the pictures and customer reviews to show how effective our technique is. Send those pictures now. We're waiting to get your car back to its original beauty.