If you're like me, you've probably heard "paintless dent removal" and wondered how that's even possible. But it is. Auto body repair experts are doing it.
If you're curious about how it works, or maybe you're considering fixing your car's body this way, then this guide is for you.
We'll cover everything you need to know about paintless dent removal, how it's done, and answers to the most likely questions you may have about it.
Let's dive in!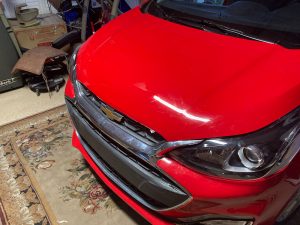 What is Paintless Dent Removal?
Paintless dent removal (PDR) is a technique that, as its name suggests, allows the sheet metal to be replaced without having to repaint the bodywork of the car.
Of course, this technique is less expensive than traditional bodywork since it does not require any passage in the paint booth. But miracles do not exist! This method of dent removal is in fact only possible on a certain size of bumps, located at certain places on the bodywork, and depending on the material of the dented part.
There are several reasons paintless dent removal is the ideal solution in cases where it can be done:
The price:

Without replacement or painting, PDR can be up to 60% cheaper than a traditional repair technique

Quality:

The integrity of the bodywork is preserved, and the vehicle regains its original appearance without replacement or modification

Speed:

Handling each dent or ding does not last more than 30 minutes

Preservation of the environment: No use of sealants, paint, or any other product are characteristics of paintless dent removal that help the environment
The Process of Removing Dents Without Using Paint
Working from behind the dent
The bodybuilder will insert rods behind the body panel

Then they'll position those rods behind the bumps

Next, they apply impact to the bumps and push them outwards

It will "massage" the sheet metal and beat it back into position

The sheet will return to its original shape
Working in front of the dent
The bodybuilder sticks a special vacuum cap in the middle of the dent

Then, they pull the dent extremely carefully

It balances and adjusts the straightening of the sheet
But note: This doesn't work all the time…
The results of paintless dent removal on utility-type vehicles are generally less convincing. This straightening method is, in fact, less suitable for utilities because their sheets are more robust and therefore more difficult to replace. Aluminum body parts (like some hoods) do not straighten with this method.
When Do You Use Paintless Dent Removal?
This method is optimal for dents caused by shopping carts or doors, hail, a tennis ball, or a kick. Obviously, to remove dents without paint, the paint and varnish must not be damaged or weakened at the bump's location. If the paint is not intact, the action of removing dents will worsen the damage and damage your paintwork even more.
This is the Most Popular Method for Cars Damaged by Hail
Hailstorms during a severe storm can cause significant damage to a car's body. You will ‌notice many small dents on the whole of your bodywork. Here, the paintless dent removal method can repair approximately 60% of the damage caused. And the rest will be done with a traditional method of bodywork, and therefore a mandatory passage in the paint booth.
What is the Cost of this Auto Body Repair?
The price of dent removal without paint is calculated by element. A bodywork element is, for example, "a door". The price of the dented item will be the same whether you have one or multiple dents. The price increases only if the bumps are caused by hail since in this case they will be very many.
The cost of dent removal varies depending on the item. A hood will be more expensive than a door. It is necessary to plan between an average of $75 and $200 for the dent removal of an element.
FAQ
What size of dent can be repaired?
We can repair most dents. The key factor to consider is the ratio of the depth of the dent to its diameter. A large dent of medium depth is more easily repaired than a dent of medium size, but very sharp inwards. Dents caused by car doors or hail will be completely removed permanently and with no repair marks.
Is it only dents on doors that can be removed?
We remove dents from all panels including the roof, fenders, trunk, and hood of cars. Car dent removal is possible at most places on the vehicle.
Does the door panel have to be removed?
During car dent removal, in 98% of cases, we do not remove your door panel. Our tools are specially designed to slip behind the sinker. There are many access areas for our body repairers on your vehicle.
How long does paintless dent removal repair take?
In most cases, we get the dents out of your vehicle while you wait. Different dent repairs take between 15 and 60 minutes depending on the size and location of the dent to be removed. On average, 1-2 hours are sufficient to repair a dent that is 4 inches/10 cm or less in diameter. (In some extreme cases, it can take between 3 and 4 hours).
Is paintless dent removal covered by insurance?
Absolutely! Insurance companies have welcomed the technique of paintless dent removal with open arms. For removing hail damage, paintless dent repair saves them costs on paint, materials, and rental cars. Repairing minor dents, such as those caused by opening doors or grocery carts, is, in 98% of cases, less expensive to repair than paying the amount of your insurance deductible.
Are the repairs done by suction?
No, paintless dent removal is done using metal rods that are inserted behind the dent to exert outward pressure.
Can the bump reappear over time?
Only if you have a new collision! Since the metal's integrity hasn't been affected, only another equally strong impact to the exact same place would make a dent reappear.
It is recommended for best results to make repairs indoors with adequate lighting.
Everyone, whether you drive a Hyundai or a Mercedes. PDR is the best technique to bring your vehicle back to its original condition at a reasonable cost.
Will this technique damage or peel the paint?
No, the great thing about this technique is that it preserves your paint. Even after many years, no trace is visible; it's guaranteed.
After a repair, will rust affect the area that was worked?
Unlike traditional bodywork, the area that was worked has no more chance of rusting than the rest of your vehicle.
Can you access to the vehicle's entire surface area?
Yes. Sometimes we must remove certain pieces of trim, lights, or other parts, but we always find a way to access the dented area.
How long does a repair take?
On average, 1-2 hours are sufficient to repair a dent that is 4 inches/10 cm or less in diameter. You can then wait onsite during the repair.
PDR applies to damage up to what size?
It is difficult to answer this question. Depending on the depth and location, we can repair dents the size of a football, and sometimes larger. In the most extreme cases, it is difficult to determine this from a photo. You can visit our workshop or send us a photo to give you a more accurate estimate.