One of the things that can ruin your car's sleek appearance is dents. Enter paintless dent repair (PDR) – a magical process that removes dents without damaging the paintwork. But how much does paintless dent repair cost?
As a car owner, you know the importance of keeping your vehicle looking its best, but the expenses can add up quickly. That's why understanding the true cost of PDR is crucial to making informed decisions about maintaining your ride's appearance. In this blog, we'll delve into the nitty-gritty of PDR costs, including the various factors that can affect the price, the average cost wherever you may be, and pro tips for saving money. By the end of this ride, you'll be a PDR cost expert!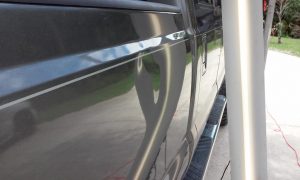 Unlike traditional methods that involve messy and time-consuming painting, sanding, and filling, PDR is a non-invasive and eco-friendly process that uses specialized tools and techniques to massage the dented area back into shape. Technicians work their magic by accessing the back of the dent, then skillfully pushing and pulling until your car's bodywork looks as good as new.
And the best part? PDR maintains your vehicle's factory finish, saving you time and money. It's no wonder PDR has become the go-to solution for small to medium-sized dents on cars, trucks, and even motorcycles. So why not let PDR work its magic on your ride and restore its former glory?
Factors That Affect the Cost of Paintless Dent Repair
To ensure you're not caught off guard by an unexpected bill, let's take a closer look at the factors that can affect the cost of PDR.
1. The Size and Location of the Dent
A smaller dent that's easy to access can be removed more quickly and at a lower cost than a larger or more complex dent that requires more time and skill to remove. The number of dents your vehicle has is also a factor involved. Multiple dents will cost more to repair than a single dent.
2. The Age and Type of the Vehicle
The age of your vehicle also comes into play. An older model may require more time and effort to repair than a newer car, which could affect the overall cost. Similarly, luxury or high-end cars may require more time and skill to repair, which could increase the cost.
3. The Severity of the Damage
If the dent is particularly deep or has caused extensive damage to the bodywork, it may require more time and effort to repair, driving up the cost.
4. The Experience and Skill of the Technician
Certainly not the least factor, the experience and skill of the technician is included. While highly-skilled technicians may charge more for their services, you can have high-quality repairs that are worth the investment.
When picking a technician to handle your vehicle's PDR, you want the best, and in Florida, that happens to be Dent Max. With our commitment to competitive pricing, fast turnaround times, and exceptional customer service, you can trust that you're getting the best value for your investment. Contact us today to schedule your appointment and see why we're the go-to PDR company in Florida.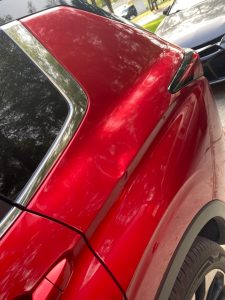 How Much is Paintless Dent Repair?
Okay, let's talk numbers! How much does paintless dent repair cost? As we've established already, it depends. We've looked at several factors that come into play, including the size, location, and severity of the dent, as well as the experience and skill of the technician.
On average, you can expect to pay between $50 to $450 per dent. While that may seem like a wide range, keep in mind that a small, easily accessible dent will be on the lower end of the scale, while a larger or more complex dent could be closer to the higher end.
But here's the kicker – while PDR may be more expensive than other traditional dent repair methods, such as bodywork, it can actually save you money in the long run. How? Well, PDR maintains your car's factory finish, so there's no need for painting, sanding, or filling, which can save you both time and money.
So, while the average cost of PDR may vary, it's a cost-effective and efficient solution for small to medium-sized dents. Plus, with the added bonus of preserving your car's original finish, it's a smart investment that can save you money in the long run.
Saving Money on Paintless Dent Repair
Paintless dent repair (PDR) can be a cost-effective way to restore your car's beauty without breaking the bank. But if you're looking to save even more money on PDR, here are some savvy tips to keep in mind:
1. Consider the Location of the Dent
A dent that's easy to reach will likely be a quicker and easier fix, potentially saving you money on the repair.
2. Get a Second or Fifth Opinion
Another way to save money is to get quotes from multiple technicians. While you'll want to choose someone with the right experience and skill set, shopping around can help you find a more affordable option.
3. Pick the Right Time of the Year
Timing is also important. During peak seasons, PDR technicians may be busier and charge higher prices. By scheduling your repair during the off-season, you may be able to negotiate a lower rate. This might mean you have to drive around with a dent, though.
4. Prevention is the Best Option
Don't forget the value of preventive measures! Parking your car in a garage or using a car cover can help protect your vehicle from future damage, saving you money in the long run.
Get your Car Looking Like New Again in Florida
Whether you want to remove an unsightly dent or give your car a fresh look, PDR is a smart choice. Don't wait until the damage becomes worse and the costs skyrocket; take action today (or in the off-season) and enjoy a hassle-free and budget-friendly solution that will get you back on the road in no time.
As the number 1 paintless dent repair company in Florida, Dent Max is the agent you want to deliver that solution.
With our experienced and certified technicians, state-of-the-art tools and techniques, and commitment to customer satisfaction, we guarantee to exceed your expectations and restore your vehicle's original beauty. We provide services in these Floridian cities:
DeBary
Deltona
Sanford
Lake Mary
DeLand
Winter Springs
Longwood
Casselberry
Wekiva Springs
Altamonte Springs
Oviedo
Forest City
Apopka
Winter Park
Lockhart
Fairview Shores
If you live in any of them or somewhere nearby, rest assured it's worth the drive to one of them if you want the best hands touching your ride. Get professional results that our past customers are thrilled about. Check out the reviews. We promise they're all good!
So why wait? Contact us today to schedule your appointment and experience the best PDR service in Florida. Your car deserves it!