Paintless dent repair has made removing dents from cars much easier, sparing car owners the annoying eyesore. But what is paintless dent repair, and why you should choose PDR over traditional auto body repair?
Paintless dent repair (PDR) is a revolutionary technique that, unlike traditional methods, removes dents, dings, and creases from a car's body without damaging the paint. It's been around for a while and is increasingly appealing to car owners looking for a more efficient way to fix their vehicle's dents.
In this blog post, we're going to dive deep into the world of paintless dent repair. We'll explore what it is, how it works, and the many benefits it offers. We'll also share situations where PDR may not be appropriate, and give you tips on how to find a qualified PDR specialist. By the end of this article, you'll be well-equipped to decide whether paintless dent repair is the best solution for your vehicle's dents. So, buckle up, and let's get started!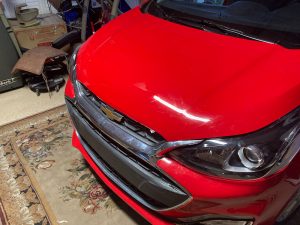 How Does Paintless Dent Repair Work?
Paintless dent repair is like magic – except it's not! It's a skilled technique that uses specialized tools and a delicate touch to repair dents, dings, and creases in a vehicle's body without damaging the paint or finish.
To begin the repair, the technician uses fluorescent lighting to highlight the dent's shadows and pinpoint its exact location, size, and depth. Once they've determined this, they use a variety of metal rods, picks, and other specialized tools to gently manipulate the metal back to its original shape.
The key to successful PDR is the technician's experience and skill, as well as their attention to detail. They must carefully work the metal to avoid over-stretching or damaging it further while ensuring that the dent is entirely removed.
Benefits of Paintless Dent Repair
1. It's Affordable
PDR is a cost-effective repair option because it doesn't require any painting or fillers. This means you can get your car back to its pre-dent condition without breaking the bank.
2. It's Environmentally friendly
PDR does not use any chemicals or paints that can harm the environment. It also reduces waste and energy consumption by avoiding the need for new parts and materials.
3. It Preserves Your vehicle's Beauty
If you care about maintaining your vehicle's original appearance, PDR is a great option. The repair process doesn't involve any sanding, painting, or filler, so your car will look just as good as new once the dent is removed.
4. It Increases Your Vehicle's Value
Dents and other cosmetic damage can negatively impact your car's resale value. By using PDR to restore your car's appearance, you can help increase its value and make it more appealing to potential buyers.
5. It's Quick and Easy
PDR can be done in a matter of hours or even minutes, depending on the complexity of the dent. You don't have to leave your car at the shop for days or weeks.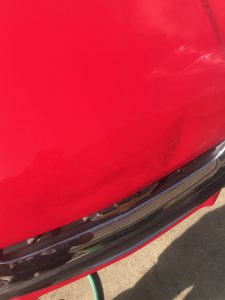 When is Paintless Dent Repair Not Appropriate?
While PDR is a fantastic method for repairing many types of dents, it's not always the best option. Here are a few situations where PDR might not be the most effective choice:
1. When There Is Paint Damage
If the dent has caused any paint damage or scratches, PDR may not be enough to restore the appearance of the vehicle. In this case, traditional dent repair methods that involve painting and color matching may be required.
2. When the Dents Are Large
PDR may not be sufficient for larger or deeper dents. In some cases, traditional repair methods may be necessary to fully repair the damage and restore the vehicle's appearance.
3. If There is Structural damage
If the dent has caused any structural damage to the vehicle, PDR is not an option. Structural damage requires specialized repairs that only a professional auto body shop can provide.
4. If the Dent Is on a Body Line or Edge
Access to both sides of the dent is essential for PDR, but body lines and edges can pose a challenge due to limited space and increased rigidity. Highly-skilled technicians or alternative repair techniques may be necessary for such cases.
5. If Your Vehicle is Old
For older vehicles that have been exposed to the elements for many years, the metal may be weakened or brittle. This can force you to resort to other methods to remove the dent.
Consider seeking advice from an auto body repair technician if you're unsure whether PDR is suitable for your car. They can evaluate the damage and suggest the most effective repair method to restore your vehicle's appearance.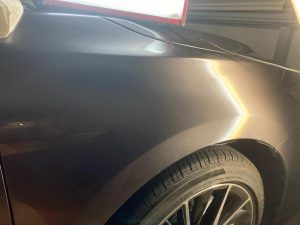 How to Find a Qualified Paintless Dent Repair Specialist
When you want to fix your vehicle's dent, you want to make sure the person working on your ride can make it look factory-new again. Here are some tips on how to find the best PDR specialist in your area:
1. Tap into Your Network
Your friends, family, and colleagues may have had their vehicles repaired using PDR. Ask for their recommendations, and you'll likely hear some valuable insights about local PDR specialists.
2. Check Online Reviews
Check online reviews on sites such as Google, Yelp, and Facebook to get an idea of what to expect from a PDR specialist. Reading both positive and negative reviews can provide a clear picture of their quality of service.
3. Make Sure They're Licensed and Insured
When it comes to any type of automotive repair, it's important to work with a licensed and insured specialist. This ensures that the person working on your vehicle has the necessary skills and training to do the job right and that you're protected in case of any accidents or mishaps.
4. Book a Consultation
Before committing to a PDR specialist, request a consultation to meet with them in person. During the consultation, you can discuss the damage to your vehicle, receive a quote for the repair, and gauge the specialist's expertise and professionalism.
Or You Can Meet the Best in Florida
At Dent Max, we know that a minor dent or ding can be a major eyesore on your beloved car. That's why we offer the most reliable and affordable paintless dent repair services around!
Don't settle for less than the best when it comes to your car's appearance. We provide the best quality PDR services that satisfy our clients (check out the reviews) and will exceed your expectations. With our competitive pricing and fast turnaround times, you can have your car looking great in no time! We work in many cities in Florida, including:
Debary

Deltona

Sanford

Lake Mary

DeLand

Winter Springs

Longwood

Casselberry

Wekiva Springs

Altamonte Springs

Oviedo

Forest City

Apopka

Winter Park

Lockhart

Fairview Shores
If you live anywhere near one of these, a drive to Dent Max is definitely worth it when you want the best PDR services in Florida. Before you commit to the drive, you can text us photos of the dent and get a free estimate of the cost of repair.
Contact us today to book an appointment and see why so many satisfied customers choose Dent Max for all their PDR needs.