Auto Hail Damage: What You Need to Do Before Repairs
It's hail season again. Time to pay extra attention to the weather news for any hint of hail you have to avoid. Most of the time, the hail isn't that much of a problem; if you're quick enough, you might not even have so much as a scratch on your vehicle. But if you're reading this article, it's probably worse than that; your vehicle has sustained extensive hail damage (also known as auto hail damage). Those one-inch-diameter blocks of ice are to blame.
When you find out that your vehicle has been damaged by hail, your train of thought turns to how you can turn back time so you can avoid the disaster totally. It is unfortunate that that isn't an option, and you know it, so you then start thinking of how you can get rid of the dents.
But you shouldn't rush to the workshop immediately. There are things you need to do first to minimize the hurt from the hailstorm.
Make sure you are covered by your insurance
It is important to check your insurance policy to make sure it covers hail damage. If you've taken out a claim for this before, then there is no problem. Unless your insurance doesn't cover it or the damage is less than the deductible, you should get a quote from your insurance company before you agree to repair hail damage.
If you're not sure about your insurance coverage, a simple phone call should let you inquire about it. From there, you can move on to the next steps.
Find out what you can do with PDR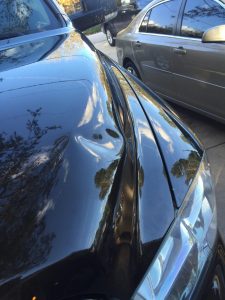 PDR is also known as paintless dent repair or paintless dent removal. It is a form of repairing dents that involves the dents being massaged and coaxed back into their original shape using a variety of techniques, all without damaging the paint on your vehicle or requiring you to repaint it.
As you might imagine, due to the fact that PDR does not require the use of paint, it is a more cost-effective option than most with comparable or even better results. It is important to keep in mind that Dent Max is able to offer you such services without you having to go far to have them provided.
It is unfortunate that PDR is not able to do everything. It should be noted that there are certain types of damage that PDR cannot help you with, for example, broken mirrors, cracked windshields, chipped paint, and busted lights, to name a few. The soft-handed method may be useful in some instances, which is why it is always a good idea to check with the experts first to see what they can do with it before breaking out the big guns. It is important to take these precautions so that you can approach your insurance company with all the information you need about what the repairs will cost.
Get a free estimate of the repair cost
The majority of auto shops offer free estimates for auto damage as part of their services. Make sure you use this opportunity to get an estimate for the repair of your vehicle and make sure you include the cost of the labor as well. By doing so, you will be able to come up with a price range that you can discuss with your insurance provider. 
With a systematic approach to hail damage estimation, it usually takes less than an hour for the estimate to be completed. The adjuster will determine the severity of the dents and the number of them throughout every panel of the body. The estimator will answer any questions you may have about the repair during this process. This will enable him to gather information about your vehicle and address any concerns you may have about the repair. In this way, they will be able to make an educated guess about the total cost of repairing your vehicle. With this price in mind, you can then contact your insurance company and ask them to provide you with a quote.
Get a quote from your insurance provider
Basically, the quote is the amount of money that the insurance company intends to pay towards the cost of the repairs. Depending on the severity of the damage that has been caused to your vehicle, this amount may vary. Therefore, before an insurance company can give you a quote, it must be able to get proof of the extent of the damages to be able to give you an accurate quote. It is possible to provide them with this evidence in two different ways. 
Send them pictures of the damages
You should make sure that you take a lot of pictures of the damage caused to your home by the hail storm, and make sure the pictures are very good. This is something that should be done when the car is clean. If the vehicle is clean, the observer can clearly see all hail damage that has occurred on the vehicle. When dust and dirt are present on a surface, a masking effect is often created. Therefore, estimates may be inaccurate as a result of this and the repair processes may take a long time to complete.
Try to get close-ups from as many angles as you can. This will reduce the chances of the company having an excuse to argue the truth of your claim. Also, make sure you place your claim within a reasonable time from the event of hail. 
Get the company to send over an inspector
This is another way to provide proof, and probably the slower one. Sometimes, you might have to wait for weeks for an inspector to come by, weeks during which you're either driving around a car that exemplifies embarrassment or stuck with public transport. Perhaps you should stick to the first option.
After submitting your proof, you should request a fair amount from your insurance (based on the estimated cost from your favorite dent repairers) before the repairs are made rather than haggling once they are finished. It's much better this way, makes sure that even if the insurance money isn't enough, the amount you have to make up won't be too much.
All these guidelines combined are guaranteed to make auto hail damage as painless an experience as possible. And if you need a reliable company to do the weightlifting of PDR and bodywork replacement, don't forget us. We strive for excellent customer satisfaction, and we have been doing so for the past 20+ years.
You only need to call us anytime or text us images of the damage your vehicle has sustained for a free estimate of the repair costs. You can also book an appointment with us for a more hands-on consultation.